Opening Hours:
Monday-Friday: 7:00-15:00
Saturday-Sunday: 8:00-14:00
Bo på mysigt hotell i Lund
Välkommen till Lilla Hotellet i Lund
Om du är ute efter ett lugnt och mysigt hotell i Lund så har du kommit helt rätt. Vi erbjuder ett lugnt och smakfullt boende i Lund med gratis trådlöst Internet. Hotellet består av fem varsamt renoverade gatuhus och gårdshus från mitten av 1800 talet. Idag har hotellet 26 rum samt en fullutrustad konferenslokal – alla med en mycket speciell atmosfär, perfekt för en konferens i Lund. Rummen är individuellt inredda och av hög standard. Toalett, dusch, hårtork, TV, DVD samt gratis trådlöst Internet finns på varje rum. Om du vill titta mer på våra rum klickar du på Enkelrum, Grand Lit rum eller Dubbelrum. För att gå direkt till bokningen klickar du på bokning. På Lilla Hotellet i Lund är vi måna om att våra gäster skall ha det bra och trivas hos oss, så är det något du vill ha hjälp med så säg bara till! Vi finns här för din skull. Varmt välkomna till vårt mysiga hotell i Lund!
Information gällande Coronavirus (Covid-19)
Vi gör allt för att skapa en trygg miljö för våra gäster och medarbetare. Renlighet och hygien tages på största allvar, vi uppmanar att inte ta i hand och städ/frukostpersonal använder handskar. Personal och gäster som känner sig sjuka uppmanas att stanna hemma. Tvål och handsprit finns välplacerad på offentliga ytor. För att underlätta för våra gäster finns följande alternativ: frukosten på rummet, frukostpaket att ta med, sitta i matsalen eller sitta ute på innergården om vädret tillåter. Vi har olika rum på bottenplan med egen ingång från innergården, vi försöker sprida ut gästerna i olika byggnader så att riskspridningen blir så litet som möjligt. Då vi är ett litet hotell är vi skonade från stora folksamlingar. Vi är måna om våra gäster/personal och understryker att vi gör allt för tryggheten och säkerheten kring Covid-19! Vi håller oss uppdaterad och gör de insatser som krävs för att förhindra smittspridningen kring Covid-19!
---
Enkelrum
Från 850 SEK per natt
Dubbelrum
Från 1050 SEK per natt
Grand Lit
Från 1050 SEK per natt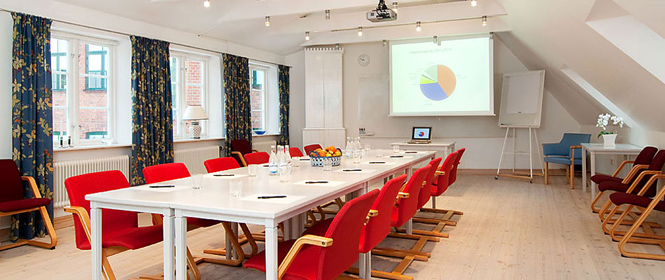 Welcome to The Little Hotel in Lund!
We offer a peaceful and tasteful accomodation with free WiFi in the center of Lund, Sweden. The Hotel consists of five townhouses from the mid 1800's which have been carefully renovated into 26 rooms and a fully equipped conference room – all with a very special touch. The rooms are individually furnished and are held to a high standard. Each room is equipped with toilet, shower, hairdryer, TV, DVD and free WiFi. If you would like to take a closer look at our hotel rooms, just go to Single room, Grand Lit room or Double room. If you would like to make a reservation please go to Reserve room. It is important for us that our guests appreciate their stay, so if there is anything we can assist you with – don't hesitate to let us know! We are here to make your stay plesant. Welcome to a small oasis in the center of Lund!
Coronavirus Information (Covid-19)
We do everything possible to create a safe environment for our guests and employees. Cleanliness and hygiene are taken very seriously, we encourage cleaning/breakfast staff not to shake hands and to use gloves to the greatest extent possible, and staff who feel ill are invited to stay at home. Soaps and disinfectants are placed in public areas. To make things easier for our guests, breakfast can be served in the room for those who wish, guests can pick up a breakfast bag if desired or sit in the dining room and enjoy the breakfast with good distance between each other. We have several rooms on the ground floor with their own entrances from the court yard, we try to spread out the guests in different buildings so that the risk of spread is as small as possible. Since we are a small hotel, we are spared of large crowds. We care about our guests and staff and emphasize that we do everything for the safety and security concerning Covid-19! We keep up to date and make the necessary efforts to prevent the spread of Covid-19!
---
Single Room
From 850 SEK per night
Double Room
From 1050 SEK per night
Grand Lit
From 1050 SEK per night